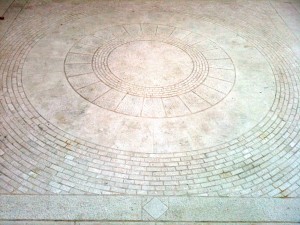 I installed this mosaic in an outdoor courtyard. For perspective, this section is about ten feet by ten feet, so one-hundred square feet.
The stones are a white limestone/marble, imported from the former Yugoslavia.
The mosaic pieces are one inch wide by one to two inches long.
What made the work exceptionally challenging is the tile's one-and-a-quarter inch thickness, which caused the tiles to topple over constantly, and to shift and slide from their installed position while they were drying. This required nightly visits to correct these misaligned pieces before drying was completed.
Not sure if this picture does the project justice, will take some more photos soon. This place looks like a Mediterranean haven (which was the intended look.)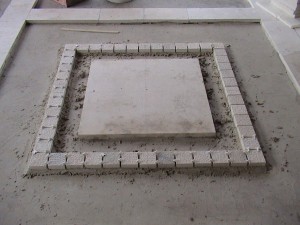 Coming next, phase 2: Marble mosaic in open deck flooring. This next phase has already begun. I have yet to fill in the empty areas with mosaic.
I had hoped to get to this earlier in the year, as in before the cold weather set it, but it looks like I'm going to be working with heaters, which really only serve to provide an illusion of warmth in the Canadian cold outdoors.
Update: Spring 2011
The cold came and went so I guess I won't be needing those heaters after all. Oh well, "dem's the breaks" – I seem to be living a "last minute life."