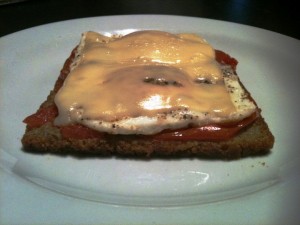 This is my go to meal when I'm in the pickiest of moods and just can't figure out what I might eat. This is a breakfast I am happy to have for lunch and even for dinner. It's warm, satisfying and packed with umami from the tomatos. In addition, helping to make this a perfect meal is the fact that it is so quick to prepare.
I hope you enjoy this sandwich as much as I do. Make sure to have napkins at the ready because the egg yolk is going to love your face.. 🙂
Ingredients
| | |
| --- | --- |
| 1 | Slice of Bread (or anything else you might like to substitute) |
| 2 tsp | butter (for frying tomatos and eggs) + Butter (for spreading on bread) |
| 1 tbsp | oil (for frying tomatos and eggs) |
| 4 | Thin Tomato Slices (1/8″) |
| 2 | Eggs (I like to buy the ones that say "no antibiotics") |
| – | Salt and Pepper (other spices if you like – I often flavor my eggs with cumin, or my current favorite – sumac.) |
| 2 | Slice of your favorite cheese (I use Jarlserg) |
Preparation
Heat the pan, add 1 tbsp of oil and 1 of the teaspoons of butter.
Add the tomatos to the pan, sprinkle top with equal amounts of salt and sugar, continue to sauté until the tomatos are "wilted", and when done set them aside – cover to keep warm.
Fry the eggs, I like them "sunny-side-up", but you can also do scrambled, or whatever else may strike your fancy. Salt and pepper your eggs to taste, and if you've opted for any other spices, add them now.
Top the eggs with cheese and use the lid to help melt the cheese. The cheese melts quite quickly, in about 30 seconds to a minute, so make sure you check on it.
If you want your bread toasted, do it now.
Assemble your open-face sandwich: Spread the bread with butter, lay the tomatos atop the butter, add the cheese topped eggs – enjoy!
Click an image to enlarge it and then continue browsing the gallery.
Tips
Tomatos are expected to have some degree of natural sweetness, but some tomatos are sweeter than others. Long term refrigeration makes it possible for us to have year-round access to produce that would not be available to us under normal conditions, but this is not without a price – some flavor loss is inevitable. For this reason I add a bit of sugar, the same amount as I do salt, to enhance what should have been the natural sweetness of the tomato.
If you don't like your egg white runny, put a lid on the pan. This will help cook the egg white completely. If you're like me and you do love your yolk runny, don't leave that lid on too long.
Finally, use the lid method to melt the cheese too.