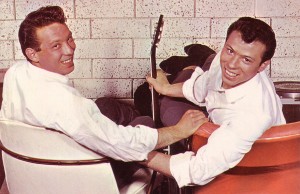 Oldies? I think regardless of age, oldies to most people means music from the 60s, give or take. Maybe that's also for many the beginning of music as we know it today.
Clearly this is a very narrow view of music since of course music existed long before the nineteen-sixties, but a very different type of music than the mainstream we listen to today. Here's my tribute to AND (not BUT) goodies, music I NEVER tire of listening to.
I will be adding entries here over time – when I do, I will change the publishing date so that the post will move to the top, and add "Updated (date)" to the title.
Sleepwalk
Originally By Santo and Johnny, 1959


"Sleep Walk" is an instrumental steel guitar-based song recorded and released in 1959 by brothers Santo & Johnny. The song was composed by Santo and Johnny Farina as well. (The original single credits three Farinas—perhaps their mother or sister helped, but it's apparently false.[1]) It was recorded at Trinity Music in Manhattan. "Sleep Walk" entered Billboard's Top 40 on August 17, 1959. It rose to the number-one position for two weeks in September (the 21st and the 28th)[2] and remained in the Top 40 until November 9. "Sleep Walk" also reached number four on the R&B chart. [3] It was the last instrumental to hit number one in the 1950s and earned Santo & Johnny a gold record." [From Wikipedia.]
This was in a fair number of movies, including "12 Monkeys"
It's a lovely mood piece that always makes me want.. something..
You Tube: Sleepwalk, Santo and Johnny
By The Reflections
There have been many covers of this piece – this is another one I like.
You Tube: Sleepwalk, Reflections
Summer of '42,
"Summer of '42 is a 1971 American "coming-of-age" drama film based on the memoirs of screenwriter Herman Raucher. It tells the story of Raucher as a boy, in his early teens on his 1942 summer vacation on Nantucket Island, off the coast of New England, who embarked on a one-sided romance with a woman, Dorothy, whose husband had gone off to fight in World War II." [From Wikipedia.]
Another one of those "haunting" tunes that I love so much.
You Tube: Summer of '42, MIchel Legrand
I Love How You Love Me, Paris Sisters, 1961
I know what you're thinking.. This one's really "girly". Well, truth be told, still a girl last time I checked.. 🙂
"I Love How You Love Me was a 1961 Top Ten hit for the Paris Sisters which inaugurated a string of elaborately produced classic hits by Phil Spector. The song has been recorded by many other artists including Bobby Vinton for whom it was a Top Ten hit in 1968.
"I Love How You Love Me" was written by Barry Mann and his fellow Brill Building staff writer Larry Kolber (aka Kolberg); Kolber had written the lyrics to Mann's music on a restaurant napkin within five minutes. The song was intended for Tony Orlando with the intent of being arranged in the same upbeat manner as Orlando's precedent hits "Bless You" and "Halfway to Paradise".1 However Phil Spector discovered the song on a visit to Don Kirshner's Aldon Music and persuading Kirshner the song would have more potential if rendered by a female act was given the song to record with the Paris Sisters." [From Wikipedia.]
You Tube: I love How You Love Me, Paris Sisters
I'm Sorry, Brenda Lee, 1960
She was only 15…
""I'm Sorry" is a 1960 hit song for then-15-year-old American country pop singer Brenda Lee. It peaked at number one on the Billboard Hot 100 singles chart in July 1960. Allmusic guide wrote that it is the pop star's "definitive song", and one of the "finest teen pop songs of its era". It was written by Dub Albritton and Ronnie Self.[1] On the UK Singles Chart, the song peaked at number twelve." [From Wikipedia.]
You Tube: I'm Sorry, Brenda Lee, 1960
At Last, Etta James, 1960
This one doesn't get the chance to be forgotten or unknown, it is always so up front and center.
"At Last" is a 1941 song written by Mack Gordon and Harry Warren for the musical film Orchestra Wives, starring George Montgomery and Ann Rutherford. It was first performed in the film and on record by Glenn Miller and his orchestra, vocal by Ray Eberle and Pat Friday, although unreleased recordings of the song were made in 1941 for possible inclusion in the film Sun Valley Serenade. It was recorded in Chicago on May 20, 1942 and released by RCA Victor Records as catalogue number 27934. According to the tsort.info website (http://tsort.info/music/jkgsu0.htm), the song was a major hit for Miller, reaching number 9 on the Billboard pop charts in 1942, staying on the charts for 9 weeks, and it soon became a standard. Nat King Cole recorded it in 1957 on his number one album Love Is the Thing. In 1960, it was covered by blues singer Etta James in a performance that improvised on Warren's melody. James' version was inducted into the Grammy Hall of Fame in 1999. [From Wikipedia.
I Just Wanna Make Love To You, Etta James, 1961
""I Just Want to Make Love to You" is a 1954 blues song written by Willie Dixon and first recorded by Muddy Waters.[2] The song was a major hit, reaching number four on Billboard magazine's Black Singles chart…
In 1961, Etta James recorded the song for her debut album At Last!. Her rendition also served as the b-side to her hit "At Last." In 1996, Etta James' version became popular in the UK after featuring in a Diet Coke ad campaign. As a result, the single was re-released there. The song first appeared on the UK Singles Chart on February 10, 1996 at #5, the single stayed on the charts for 7 weeks and left the charts at #62 on March 23." [From Wikipedia.]
You Tube: I Just Wanna Make Love to You, Etta James