So what else can you do with the Rubik cube besides solve it? The answer is "Cubeworks".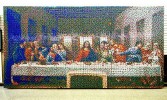 Cube Works Studio is a Toronto-based design studio which specializes in creating large-scale art and images using only Rubik's Cubes. Most recently, the team set a Guinness World record for creating the world's largest Rubik's Cube art piece – daVinci's 'Last Supper' which measures over 17 feet across and over 8 feet in height. The piece, comprised of 4,050 Rubik's Cubes is the first of it's kind.

Cube Works Studio has recently unveiled 'The Hand of God', again setting a Guinness World record by using 12,090 Rubik's Cubes. The next project for the studio is recreating the Sistine Chapel. The Hand of God is the first project's first step. By completion, over 250,000 Rubik's Cubes will have been used.


This is a mockup of the studio's next project, slated for the summer of 2011
Here are some more of my favourite Cube Works projects: