I came across a recipe for an "Olive-Oil Cake with Candied Orange" by "Epicurious" on Twitter today. I have made oil based cakes before, but never with olive oil, and I'm curious how the olive-oil impacts the flavour of the cake.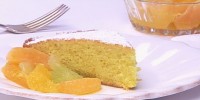 I have been meaning to try an Orange Olive-Oil Cake" recipe I had seen by Anna Olson on the Food Network Canada for a while now, so I was curious, but doubly so because of the "candied oranges" which we love at our house.
So I checked out the recipe for the candied oranges first – here is the ingredient list:
Candied orange and syrup:
1 cup sugar
3/4 cup orange blossom honey
3 tablespoons green cardamom pods, crushed
1 small orange, thinly sliced
And here are the preparation instructions:
For candied orange and syrup:
Line a baking sheet with parchment paper. Bring sugar, honey, cardamom, and 3 cups water to a boil in a medium heavy saucepan, stirring until sugar dissolves.
And there it is: "3 cups water," clear as day. Now, granted, I do NOT have to go to the well for this water, but what if did? I mean, now you tell me I need water?
Why isn't water an ingredient?