Recipes Used

Cupcakes: Devil's Food Cupcakes, Page 34

Reproduced in its entirety from the book "Martha Stewart's Cupcakes"
Ingredients
| | |
| --- | --- |
| ¾ cup | unsweetened Dutch-process cocoa powder |
| ¾ cup | hot water (my comment: woot! water got listed) |
| 3 cups | all-purpose flour |
| 1 teaspoon | baking soda |
| 1 teaspoon | baking powder |
| 1¼ teaspoons | coarse salt |
| 1½ cups (3 sticks) | unsalted butter |
| 2¼ cups | sugar |
| 4 | large eggs, room temperature |
| 1 tablespoon plus 1 teaspoon | pure vanilla extract (my comment: that's actually 4 teaspoons – if your counting.) |
| 1 cup | sour cream, room tempreature |
| | Chocolate Ganache Frosting (page 313) |
| | Chocolate Curls, for decorating (optional; page 323) |
Preparation
Preheat oven to 350°F. Line standard muffin tins with paper liners. Whisk together cocoa and hot water until smooth. In another bowl, whisk together flour, baking soda, baking powder, and salt.
Melt butter with sugar in a saucepan over medium-low heat, stirring to combine. Remove from heat, and pour into a mixing bowl. With an electric mixer on medium-low speed, beat until mixture is cooled, 4 to 5 minutes. Add eggs, one at a time, beating until each is incorporated, scraping down sides of bowl as needed. Add vanilla, then cocoa mixture, and beat until combined. Reduce speed to low. Add flour mixture in two batches, alternating with the sour cream, and beating until just combined after each.
Divide batter evenly among lined cups, filling each three-quarters full. Bake, rotating tins halfway through, until a cake tester inserted in centers comes out clean, about 20 minutes. Transfer tins to wire racks to cool 15 minutes; turn out cupcakes onto racks and let cool completely. Cupcakes can be stored overnight at room temperature, or frozen up to 2 months, in airtight containers.
To finish, use a small offset spatula to spread cupcakes with frosting. Refrigerate up to 3 days in airtight containers; bring to room temperature and garnish with chocolate curls just before serving.
Chocolate Ganache Frosting, Page 313

Reproduced in its entirety from the book "Martha Stewart's Cupcakes"
Ingredients
| | |
| --- | --- |
| 1 pound | good-quality bittersweet chocolate, finely chopped |
| ⅓ cups | heavy cream |
| ¼ cup | corn syrup |
Preparation
Place chocolate in a large heatproof bowl. Bring cream and corn syrup just to a simmer over medium-high heat; pour mixture over chocolate. let stand, without stirring, until chocolate begins to melt.
Beginning near the center and working outward, stir melted chcocolate into cream until mixture is combined and smooth (do not overstir.)
Refrigerate, stirring every 5 minutes, until frosting just barely begines to hold its shape and is slightly lighter in color. Use immediately (ganache will continue to thicken after you stop stirring.)
Chocolate Curls, Page 323

Reproduced in its entirety from the book "Martha Stewart's Cupcakes"
Use a vegetable peeler to slice strips from a slightly warm block of good-quality chocolate (heat in microwave for 5-second intervals, checking after each, until just warm to the touch; do not overheat.) To produce tight curls, start from the far edge of the chocolate and move the peeler toward you. The delicate curls are best used immediately; you can even shave the curls right onto a cupcake.
Review

Ease of Preparation

9 out of 10.



If you get a kick out of grating chocolate and/or knuckles, then give the prep a 10 out of 10. The grating is the only part I don't love. However, that is no fault of the recipe, but rather it is the cost of loving chocolate. You can get chocolate coins, but this limits you as to the type of chocolate you can obtain – not all chocolates come in the form of coins and not all chocolates are created equal.
For baking, you can use somewhat of a lower quality of chocolate, but for frostings, ganaches and the like, I prefer the highest quality chocolate I can get – the kind I like to eat!
Make Again?

YES

(For an explanation of "my rating system" see HERE.)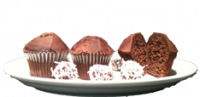 These cupcakes have a pronounced chocolate flavour, which I like very much. I don't much enjoy cakes that looks like chocolate but only vaguely resembles it in flavour. The texture was light, yet satisfying (make sure not to overbake this baby or you will dry it out – the first batch was overbaked by 5 minutes and was still delicious, but needed a cup of tea or a glass o milk – use you TIMER!)
The recipe recommends bringing refrigerated cupcakes to room temperature. I found that microwaving them (for 10-15 seconds at most) was even better. It softens and re-moistens them and gives them that "just out of the oven" effect without melting the chocolate frosting.
ENJOY! and do let me know how yours turned out.. 🙂